Last month, the Communications and Multimedia Minister Gobind Singh Deo had announced that Radio Televisyen Malaysia (RTM) would be broadcasting 41 out of 64 matches in the 2018 FIFA World Cup Russia. For free. The rights for Free-to-Air (FTA) for the 2018 World Cup was expected to have a ceiling cost of MYR40 million, although the Finance Ministry explained that the amount would be substantially reduced through sponsorship and advertising. As it turns out, sponsors did indeed step in. The free broadcast by RTM in the end, would not cost the Government a single dime.
It has now been revealed that Maxis has become the lead broadcast sponsor the RTM's broadcast. This would silence the critics who were against the new Pakatan Harapan's move, saying that the money could be put to better used.
The communications minister believes that the airing of World Cup matches was one of the ways for RTM to redeem itself and win back viewers. The move will make the international event accessible to more people. Pay TV broadcasting rights is held by none other than satellite TV network Astro.
Earlier, in a surprising move, Astro announced that it was making the World Cup accessible to all, even to non-Astro customers. It introduced a World Cup Channel Pass that lets viewers watch all 64 LIVE matches in HD on all screens, valid from 14 June to 15 July 2018. Non-Astro customers can purchase the pass for MYR120 and watch all LIVE matches on Astro Go.
As mentioned, RTM will be airing 41 out of 64 matches in the 2018 FIFA World Cup. 27 matches will be broadcasted live, while 14 will be delayed telecasts.
With Maxis on board as lead broadcast sponsor, the green telco is also extending some goodies to its subscribers. Apart from enabling RTM to telecast for free, Maxis is also letting its subscribers the chance for its subscribers to catch the epic event live anytime, anywhere on their mobile devices.
Maxis has partnered Astro to offer World Cup Passes with free data and at a crazy low price.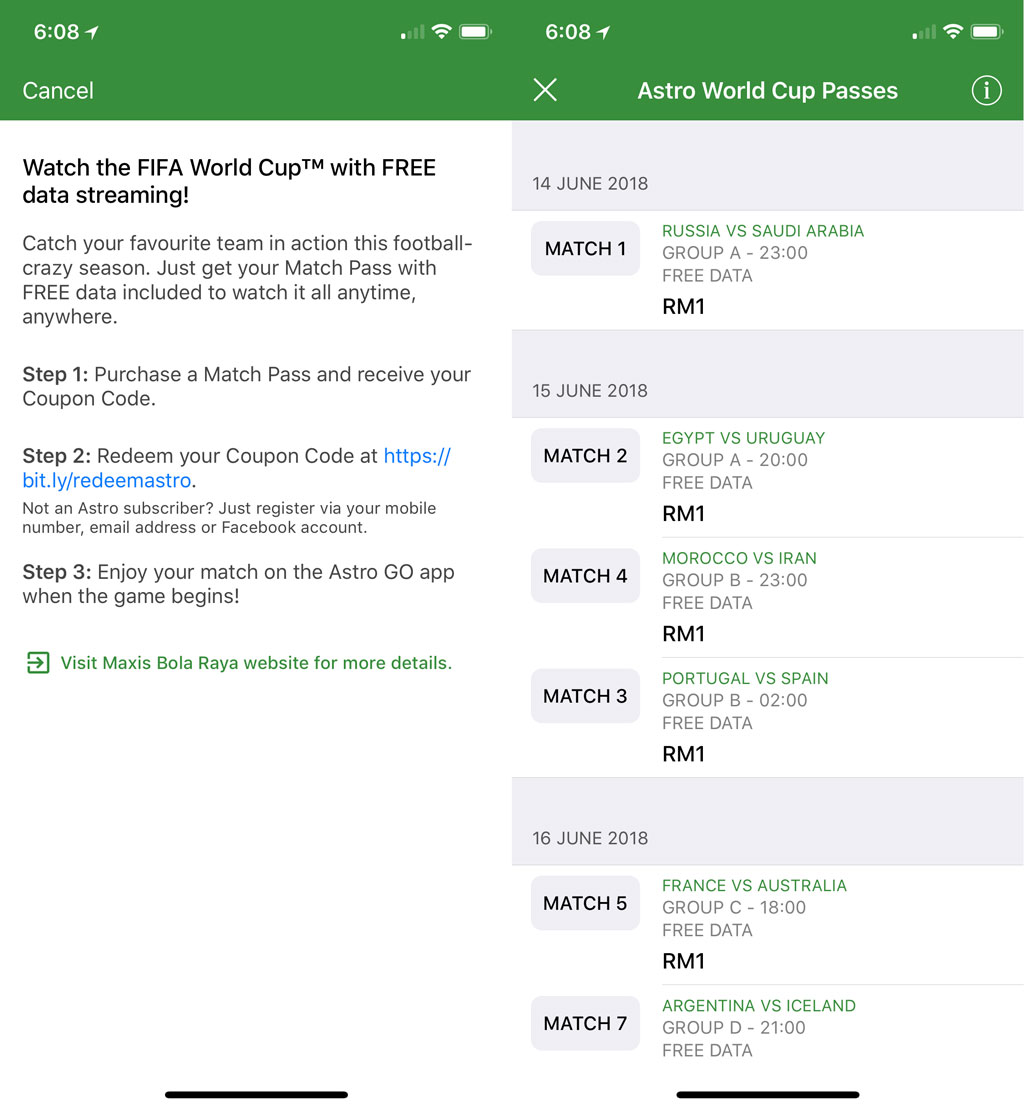 With the unprecedented arrangement, you'll be able to watch all 64 World Cup matches live for just MYR1 per match on Astro Go. You'll also get free data to stream the match in HD on the Maxis 4G network. Note that free data is only for streaming World Cup matches via Astro GO or the web portal.
To get started, all you need to do is purchase passes for the matches you want to watch via the MyMaxis or Hotlink app, available for iOS and Android. You're advised to buy the passes at least three hours before a match kicks off. Once you've purchased the pass, you'll receive a coupon code within two hours. You can purchase passes in advance.
You will be charged upon receiving the match coupon. You'll need to redeem your code here to start watching.
By the way, Maxis has released a Bola Raya app that showcases football-themed features. Download the app from Google Play and the App Store.
The 2018 FIFA World Cup takes place from 14 June to 15 July in Russia.
For more information, visit maxis.com.my.