Footie fans who have an Astro subscription? Good for you. You're all set. Those without can turn to Radio Televisyen Malaysia (RTM), who's airing 41 out of a total of 64 matches, for free. But here's something you probably didn't know. You can catch up on all the free RTM matches on its mobile app, too. You're welcome.
The RTM Mobile app is available as a free download for iOS and Android. Through the app you'll have access to all of RTM's content assets including live TV and radio streaming.
As you know, through the new government's initiative, RTM has purchased Free-to-Air (FTA) rights to broadcast 41 out of 64 2018 FIFA World Cup matches. A total of 27 matches will be aired live while the rest will be delayed telecasts.
Maxis has come out as the lead broadcast sponsor, alongside AirAsia.
Here's all you need to do. Head over to Google Play or the App Store and download the free RTM Mobile app. Once download is complete, fire up the app and click on TV2.
You'll have an option to stream in up to HD 720p resolution.
That's it, enjoy!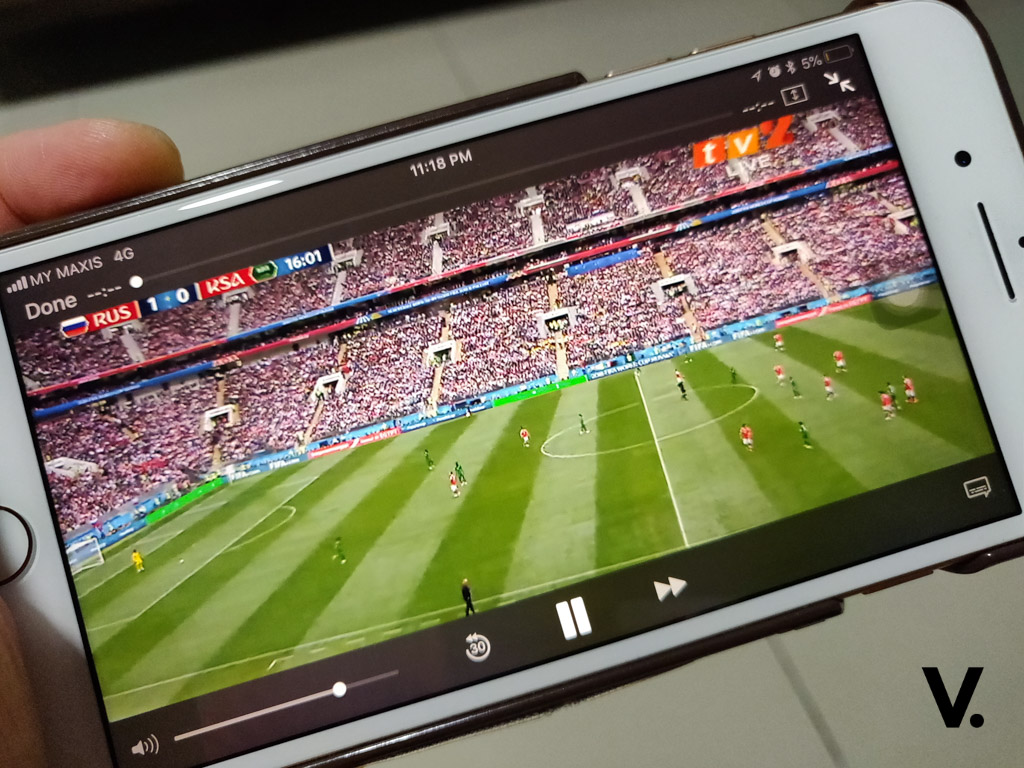 As we speak, host nation Russia is on the pitch against Saudi Arabia, in the first match of the tournament on 14 June.
Here's a full schedule of matches aired on both RTM and Astro (delayed telecasts are as indicated):
Group Stages (in Malaysian time)
June 14
Russia vs Saudi Arabia – 11pm – TV2 & Astro
June 15
Egypt vs Uruguay – 8pm – TV2 & Astro
Morocco vs Iran – 11pm – Astro
June 16
Portugal vs Spain – 2am – TV1 & Astro
France vs Australia – 6pm – TV2 & Astro
Argentina vs Iceland – 9pm – Astro
Peru vs Denmark – midnight – TV2 (delayed, 12.30am) & Astro
June 17
Croatia vs Nigeria – 3am – TV1 & Astro
Costa Rica vs Serbia – 8pm – TV2 & Astro
Germany vs Mexico – 11pm – Astro
June 18
Brazil vs Switzerland – 2am – Astro
Sweden vs South Korea – 8pm – Astro
Belgium vs Panama – 11pm – TV1 (delayed, 11.30pm) & Astro
June 19
Tunisia vs England – 2am – Astro
Colombia vs Japan – 8pm – TV2 & Astro
Poland vs Senegal – 11pm – Astro
June 20
Russia vs Egypt – 2am – TV1 & Astro
Portugal vs Morocco – 8pm – Astro
Uruguay vs Saudi Arabia – 11pm – Astro
June 21
Iran vs Spain – 2am – TV1 & Astro
Denmark vs Australia – 8pm – TV2 & Astro
France vs Peru – 11pm – Astro
June 22
Argentina vs Croatia – 2am – TV1 (delayed, 2.30am) & Astro
Brazil vs Costa Rica – 8pm – TV1 (delayed, 8.30pm) & Astro
Nigeria vs Iceland – 11pm – Astro
June 23
Serbia vs Switzerland – 2am – Astro
Belgium vs Tunisia – 8pm – TV2 & Astro
South Korea vs Mexico – 11pm – TV1 & Astro
June 24
Germany vs Sweden – 2am – TV1 (delayed, 2.30am) & Astro
England vs Panama – 8pm – Astro
Japan vs Senegal – 11pm – TV1 & Astro
June 25
Poland vs Colombia – 2am – TV1 (delayed, 2.30am) & Astro
Uruguay vs Russia – 10pm – Astro
Saudi Arabia vs Egypt – 10pm – TV1 (delayed, 10.30pm) & Astro
Spain vs Morocco – 2am – TV1 (delayed, 2.30am) & Astro
June 26
Iran vs Portugal – 2am – Astro
Denmark vs France – 10pm – Astro
Australia vs Peru – 10pm – Astro
June 27
Nigeria vs Argentina – 2am – TV1 & Astro
Iceland vs Croatia – 2am – Astro
South Korea vs Germany – 10pm – TV1 & Astro
Mexico vs Sweden – 10pm – Astro
June 28
Serbia vs Brazil – 2am – TV1 & Astro
Switzerland vs Costa Rica – 2am – Astro
Japan vs Poland – 10pm – Astro
Senegal vs Colombia – 10pm – Astro
June 29
England vs Belgium – 2am – TV1 & Astro
Panama vs Tunisia – 2am – Astro
Schedule source: https://www.star2.com/entertainment/2018/06/14/where-to-watch-world-cup-2018/
Here's other 2018 FIFA World Cup related articles: