Sunway REIT has launched its community sustainability campaign themed "Clean Air – A Smoke Free Environment Project" at its flagship asset, Sunway Pyramid Shopping Mall. The property giant collaborated with three internationally-recognised local artists to create wall murals based on the central theme.
Traditionally, anti-smoking campaigns utilise graphic imagery of mouth cancers, aborted fetuses, and more. Sunway's Clean Air campaign, however, uses art to send a positive message to people–to advocate for a clean air environment, for both smokers and non-smokers.
Artists Kenji Chai, Caryn Koh and Louise Low put their imagination to work and expressed their interpretations of the theme on three exterior walls around Sunway Pyramid.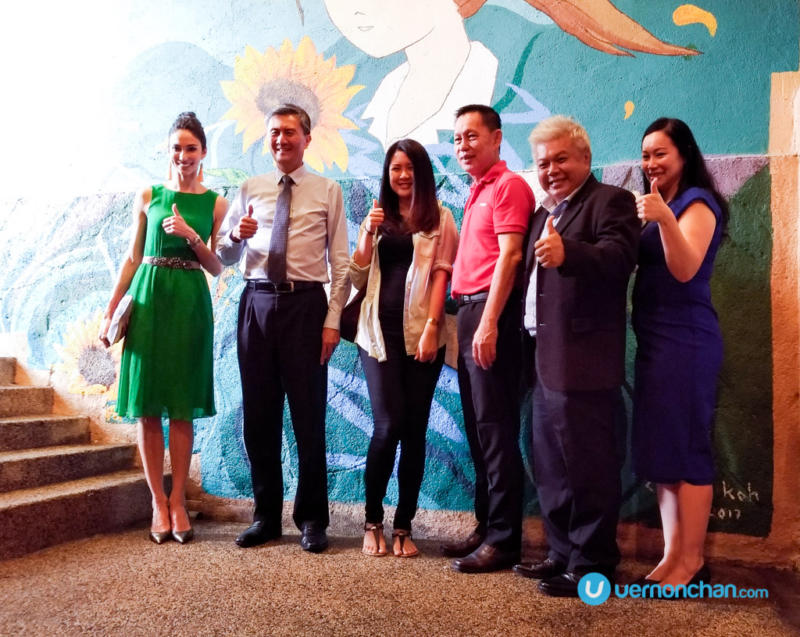 Speaking at the launch, CEO of Sunway REIT, Dato' Jeffrey Ng Tiong Lip urged the public to join Sunway REIT to make Sunway City Malaysia's first smoke-free city by 2018. All premises within the township will be declared smoke-free. By the way, the national agenda is to be a smoke-free country by 2045.
He hoped the three masterpieces will discourage smoking in those places. Additionally, he hopes it will inspire the community to kick the habit – some 200,000 people including 40,000 students who reside within the city.
Sandakan-born graffiti artist Kenji Chai's masterpiece entitled "Resurrection" is located at the Ground Floor, adjacent to the Sunway Pyramid West Link Bridge.
Doctor turned self-taught artist Caryn Koh's "Bloom," is located at the mall's exterior next to Sephora.
Louise Low, famed for her bra at that challenges social conventions, showcases her masterpiece "Rose Petals," located at the mall's Lower Ground 2 Level.
Aside from the art pieces, the public is invited to make pledges on the microsite www.sunwaycleanairproject.com. The first 400 pledgers will receive 500 Sunway Pals points.
The Clean Air campaign runs from 8 May 2017 to 30 June 2018.
Want to quit smoking?
For those interested to quit smoking (and you should), you can sign up for the fully-sponsored Sunway REIT Smoking Cessation Programme, supported by Sunway Medical Centre, and Johnson and Johnson. Participants will receive free active behavioural counselling by SMC's professionals through their smoking cessation journey. The pilot run is open to 250 participants.
From 8-14 May 2017, Sunway REIT will be conducting various activities for the public at LG 2 Orange Avenue, Sunway Pyramid Shopping Mall.
Pop by for complimentary consultations for the quit smoking program, and smokerlyzer tests. Sessions will be held from 11.30AM–2.30PM from Monday to Friday; 11.30AM–3.30PM on weekends.
Follow hashtags #cleanairproject #sunwayforgood on social networks.