Microsoft's latest masterpiece—the beautiful Surface Book 2 2-in-1 convertible notebook is in town. Pre-orders are open for the versatile device, and it will be officially in stores starting 15 March 2018.

Surface Book
The Surface Book 2 joins the expansive Surface lineup, which includes the Surface Pro and Surface Laptop.
The multi-mode device is powered by the latest 8th Gen Intel Core processors and feature powerful NVIDIA GeForce GPUs. Microsoft says the Surface Book 2 is up to five times more powerful than the original. The impressive power under the hood lets you get work done, and it'll gladly play the latest 3D games, too.
The Surface Book 2 is as versatile as it gets, able to switch between Studio Mode, Laptop Mode, View Mode, or Tablet mode. To detach the screen, press on the detach key, and the latch is disengaged electronically. Pretty neat. And that fulcrum hinge. Wow.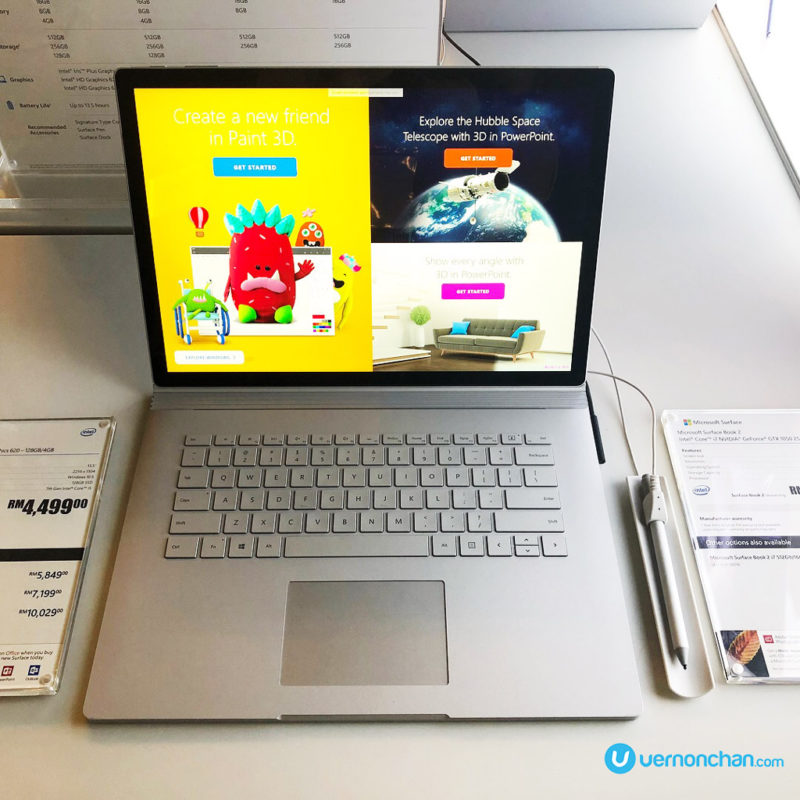 As expected from Microsoft, it's solidly built with a premium finish, rocking brushed aluminium. It's available in 13.5-inch or 15-inch PixelSense Display options and boasts 17-hour battery life.
Microsoft has stuck to the 3:2 aspect ratio, so there's noticeable bezels on all sides.
That said, the display is made for pen input. With the optional Surface Pen, the Surface Book 2 transforms into an art canvas. There's zero lag between the pen and display, which makes it great for drawing, taking down notes or scribbling.
It boasts a backlit keyboard and precision all-glass trackpad. It's not the biggest trackpad you'd find on a notebook, and it's definitely smaller than the one on the MacBook Pro.
Surface Laptop
For those who prefer a conventional notebook experience, the 13.5-inch Surface Laptop is a great alternative. Featuring the same sleek line and premium build of the Surface family, the Surface Laptop runs 7th Gen Intel Core I processors (up to Core i7).
Weighing just 1.25kg, it measures just 14.5mm thin.
What's cool and not found on any other notebook, is the unique Surface signature keyboard that's covered in Alcantara material.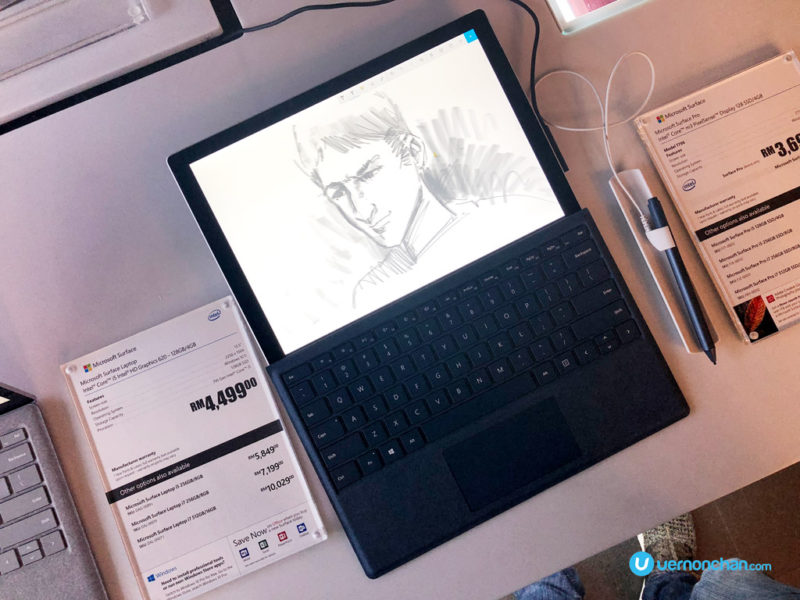 Pricing and availability
The Surface Book 2 is available for pre-order now at Surface authorised retailers and will be available for purchase from 15 March onwards.
The Surface Laptop has been in the market since January and is available to purchase at all local Surface authorised retailers.
Full price list below:
Surface Book
5" Intel Core i5, 256GB SSD, 8GB RAM, Intel HD Graphics 620 – MYR6,899
5" Intel Core i7, 256GB SSD, 8GB RAM, NVIDIA GeForce GTX 1050 – MYR8,899
5" Intel Core i7, 512GB SSD, 16GB RAM, NVIDIA GeForce GTX 1050 – MYR11,199
5" Intel Core i7, 1TB SSD, 16GB RAM, NVIDIA GeForce GTX 1060 – MYR13,399
15" Intel Core i7, 256GB SSD, 16GB RAM, NVIDIA GeForce GTX 1060 – MYR10,799
15" Intel Core i7, 512GB SSD, 16GB RAM, NVIDIA GeForce GTX 1060 – MYR12,499
15" Intel Core i7, 1TB SSD, 16GB RAM, NVIDIA GeForce GTX 1060 – MYR14,199
Surface Laptop
Intel Core i5, 128GB SSD, 4GB RAM, Intel HD Graphics 620 – MYR4,499
Intel Core i5, 256GB SSD, 8GB RAM, Intel HD Graphics 620 – MYR5,849
Intel Core i7, 256GB SSD, 8GB RAM, Intel Iris Plus Graphics 640 – MYR7,199
Intel Core i7, 512GB SSD, 16GB RAM, Intel Iris Plus Graphics 640 – MYR10,029
Intel Core i7, 1TB SSD, 16GB RAM, Intel Iris Plus Graphics 640 – MYR12,399
(Currently available at Harvey Norman)
Surface Accessories
Surface Pen (Black, Platinum, Burgundy and Cobalt Blue) – MYR299
Microsoft Surface Arc Mouse (Light Gray, Burgundy, Cobalt Blue) – MYR459
Microsoft Surface Mouse (Silver) – MYR249
Microsoft Surface Precision Mouse (Light Grey) – MYR399
Microsoft Surface Keyboard (Silver) – MYR519
Surface Dock – MYR789
Surface Adapters
Ethernet Adapter – MYR179
VGA Adapter – MYR179
HDMI Adapter – MYR179
USB-C to HDMI Adapter – MYR158
USB-C to VGA Adapter – MYR158