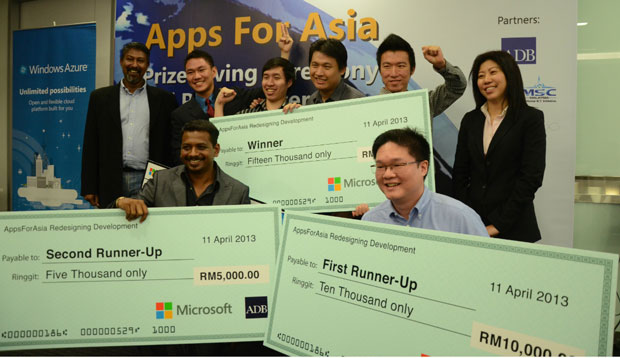 Microsoft Malaysia and the Asian Development Bank (ADB) recently recognised the outstanding talents of three local software development teams under the AppsForAsia – Redesigning Development program. The initiative is designed to pool creative talents of Independent Software Developers (ISVs) across Asia to develop sustainable solutions for economic, commercial and sofcial benefit of governments, NGOs, citizens and enterprises in the region.
The three local winners will represent Malaysia to showcase their innovative apps at ADB's 46th Annual Meeting of Board of Governors to be held in Delhi, India from 2 to 5 May 2013. Malaysia is one of five countries in the regional initiative which includes Australia, India, Republic of Korea and Philippines.
The ISVs across the region identified needs of thousands of end-users in seven key sectors – civil society, education, governance, transport, urban development, water and youth.
Between 2000 and 2011, ADB supported 372 ICT-related projects and technical assistance worth RM41 billion (US$13.22 billion).
Developers who participated in the contest were given full access to Microsoft's Cloud platform, Windows Azure. They also benefited from deeper insight into Windows 8 and Windows Phone 8 platforms through technical and architectural consulting and support.
The three winning teams are no strangers to the Microsoft platform and tools, and have been developing for the Microsoft platform for at least 10 years. The program saw a total of 29 submissions.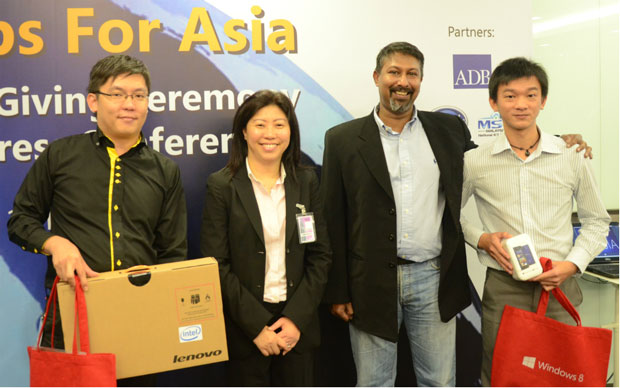 Developer DreamX submitted EPIC Hope, a collaborative platform that connects and empowers communities in Malaysia to build sustainable housing for indigenous people. Tan Jit Ren, Co-Founder of DreamX said, "AppsForAsia by Microsoft and ADB uniquely provided the perfect collaboration opportunity for ISVs and start-ups like us. Not only does it let us leverage the ease and power of the Windows Azure platform, it also gives us a chance to truly test our innovation against the needs of a massive, untapped potential market."
Another innovative app is Blood Request & Receive System (Blood R2 System) developed by Centium Software Sdn Bhd. The app allows users in emergency situations to request for blood. Powered by both Windows 8 and Windows Phone 8 platform, requests with details are pushed to everyone using the app, who can then respond immediately to these requests. The blood exchange gateway aspires to solve the blood supply and demand problem, especially in Asia where blood management is poor.
Making a difference in the education sector, is online education platform for teachers, students and parents – www.gnowledge.com. The platform advocates community-generated content and assessment for every possible syllabus worldwide. Users can create, publish, share and take tests, exercises and assignments. There are currently 7,000+ users in 30+ countries.
Ng Wan Peng, Chief Operating Officer of Multimedia Development Corporation (MDeC), was impressed by the quality of the winning innovative apps. "Initiatives such as AppsForAsia support our drive to empower businesses and connect communities through ICT. As a nation that prioritizes the development of a digital economy, Microsoft and ADB have provided the perfect avenue for local entrepreneurism to flourish and contribute to nation-building through the use of technology, on top of the opportunity for our winners to bring real-life changes to governments, businesses, and citizens across Asia."
AppsForAsia will culminate in an applications showcase at ADB's 46th Annual Meeting of the Board of Governors to be held in Delhi, where the top 3 applications from each participating country will be showcased by their developers to the thousands of attendees. Some 4,000 delegates including finance ministers and ministers; central bank governors; policy makers; chief executives of corporations; leading academics and heads of think-tanks; leaders of civil society; members of the diplomatic corps; and journalists from international, regional, and local media are expected to attend the meeting.
More information about AppsForAsia and links to participating country sites can be found at http://www.microsoft.com.my/AppsForAsia.