If you're looking for a non-coventional retail and dining experience (i.e not in another massive mall), then you're in for a treat. Artbox Malaysia is back for a second instalment—bigger, better, and more blocky.
Artbox Malaysia 2019: Assemble, with its signature stacked containers around the market site, is a unique pop-up creative night market that was first introduced in Thailand. Now it's back in Malaysia for the second year running, with a new throwback, retro theme which takes inspiration from iconic games like Tetris and Jenga.
This year, the Sunway City Outdoor Open Air Car Park once again plays host to the retrofitted creative market, which runs over two weekends: 6-8 September and 13-15 September. The event once again assembles creative talents from across the region: from Malaysia, Thailand, Indonesia and Singapore.
I spoke to Haoming Lee, Regional Head of Strategy of Invade Industry Singapore (INVADE)—the creative bunch that runs and manages Artbox and a host of other pop-up retail stores and creative markets. He gave me (and other members of the media) a tour of the 300-outlet-strong market. He explained that part and parcel of the creative market concept is about upcycling—the reused and refurbished metal containers, to the zinc roofs atop each retail store.
The mission of Artbox is to provide creative makers and entrepreneurs, local artists and musicians a platform to showcase their talents.
Aside from being a place to indulge in gastrononic adventures, and I can assure you there's an abundance, there will also be live music performances and engaging interactive activities.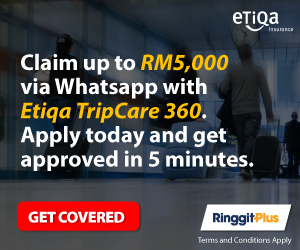 Haoming explained that some of the delectable food and beverage offerings at the market are unique, and created specially for the event. You should keep an eye out (and your palate ready) for Sawa Tea Cup, Saychiizu, IceDEA and Salmon Portion, who are showcasing exclusive Thai fusion flavours just for Artbox Malaysia.
Speaking of which, you will not miss the familiar fuschia/pink foodpanda branding and colours all over the market. All food and beverage selections are available via the foodpanda app throughout the festival. To skip long queues, you can place an order via the app and select the new pick-up feature. This enables you to conveniently order food from the F&B vendors at Artbox and personally pick up the orders when they're ready (a notification will be pushed to your phone).
That's not all, you can visit the foodpanda zones to participate in games, fun activities (with surprises), throughout the day. At certain scheduled intervals, the foodpanda tower will spew out free food to attendees. Be sure check the time table!
Remember JD Sports' "King of Trainers: The Game"? At Artbox, JD Sports x adidas have built a larger-than-life gaming experience—a vertical tower of LED screens surrounding the space, where visitros can challenge a friend to a showdown. Of course, there will be exclusive prizes to be won!
That aside, the Artblocks Tower provide an offline-to-online experience that invites visitors to form Tetris shapes with photos within Instagram's 3×3 grid. They stand to win exclusive giveaways and grand prizes from JD Sports and adidas.
You'll find highly "Instagrammable" mural-painted metal containers across the event space, created by local artists.
Pestle & Mortar Clothing, fresh from their creative endeavour with KFC, is back as the official merchandise partner for Artbox. Find exclusive event merchandise at the "Artbox X PMC" merchandise capsule, which contains all-new limited edition t-shirt designs, bags, and accessories.
Admission to Artbox Malaysia is always free. Head over to Sunway City Outdoor Open Air Carpark from 3PM-11PM, 6-8 September and 13-15 September 2019.
How to get there
By Public Transport
LRT stations with parking space: USJ 21, Ara Damansara, Putra Heights, Glenmarie & Gombak
Take LRT Kelana Jaya Line from any station to USJ 7 station & interchange with BRT to Sunway Lagoon station.
Take KTM Komuter Port Klang Line from any station to Setia Jaya station & interchange with BRT to Sunway Lagoon station.
Drive & Park
Sunway Geo (Park & ride BRT at SunMed station or use Canopy Walk)
BRT Sunway depot (Park & ride BRT at SunU-Monash station or use Canopy Walk)
Sunway University (Park & ride BRT at SunU-Monash station or use Canopy Walk)
The Pinnacle Sunway
Menara Sunway
Find out more here: https://www.sunway.city/getting-here/
Artbox Malaysia is brought to you by INVADE x Ad-nology x Artbox Thailand.
Follow www.instagram.com/Artbox_MY and www.facebook.com/malaysia.artbox/ for updates. Official hashtags: #ArtboxMY2019 #ArtboxAssemble
For more information, visit www.artbox.my