It isn't every day that you're chauffeur-driven, get to savour Michelin-starred food and receive a personal tour of a 250 million year old limestone cave all in a day. Thanks to Maxis, I got to do just that recently, together with 45 MaxisONE Club (MOC) Elite members, as part of the first of many exclusive MOC Priority Moments experiences.
The new MOC Elite program was launched on 30 March, featuring a simpler, more structured program with enhanced privileges for MOC Elite members to reward them for their loyalty and patronage. From the offset, the MOC Elite isn't your everyday rewards program. It is an exclusive membership with special privileges that brings exceptional rewards and money-can't-buy experiences that are otherwise inaccessible to the masses. Just so you know, Maxis has a dedicated, award-winning customers service team who takes care of MOC Elite members.
In the morning, I GrabTaxi-ed my way down to Cycle & Carriage, Mutiara Damansara, the meeting point before the flag-off to Banjaran Hotsprings Retreat in Ipoh. MOC Elite members, however, had the added privilege of being chauffeured from home. The Mercedes showroom was already bustling with activity with MOC Elite members enjoying refreshments or checking out the portfolio of vehicles. I took the opportunity to grab some grub and intraveneously feed caffeine into my bloodstream.
After a brief welcome speech, Dushyanthan Vaithiyanathan, Maxis head of consumer business, flagged off the fleet of Mercedes vehicles ferrying MOC Elite members.
"Rewarding all our customers has always been a priority for us at Maxis, and it simply represents our deep appreciation for their support," said Viathiyanathan.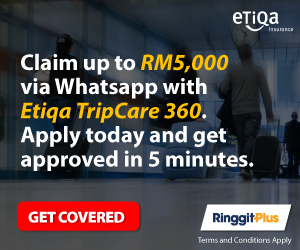 Several hours later, we were greeted by lush greenery and smell of fresh air at the exotic hot springs. The award-winning Banjaran Hotsprings Retreat is nestled in a 16 plus-acre valley, cradled by 250 million year old Paleozoic limestone hills, lush rainforest, geothermal hot springs, natural caves and cascading waterfalls. This sanctuary is a perfect getaway for rejuvenation and de-stressing, just 15 minutes from Ipoh city and 2 hours drive from Kuala Lumpur.
We were joined by Maxis CEO Morten Lundal who gave a welcome speech before everyone adjourned for lunch.
Lunch was at Jeff's Cellar, set within a limestone cave with unspoiled cave interiors and breathtaking natural water features. A truly unique setting for dining, what more with a European-Asian-inspired menu specially prepared by well-known Michelin Star Swiss Chef Felix Eppisser.
And lunch did not disappoint. It kicked off with an exquisitely plated entrée — a picture-perfect ensemble of tuna maguro carpaccio, capers berry, edible flowers and lime honey dressing that paired beautifully with white wine. The platter was a great prelude for what's to come.
Up next was the snow pea volute with tomato comfit with clams. I've never had pea soup this good, to be honest. It was fresh, light yet full of flavour.
Main course was a choice between pan seared cod or grilled wagyu beef. It didn't take much convincing to go 'moo.' The grilled wagyu beef option came with glazed foie gras, potato medallions, baby vegetables, morel sauce and truffle jus. Though the wagyu was slightly over than what I'd preferred, the main was still highly enjoyable.
Just when I thought my growing tum couldn't handle anymore, then came dessert of caramelised lemon parfait with pomelo and kaffir lime leaf. This was beautiful, complemented by a fresh cup of coffee.
After lunch there was a selection of activities members could pick to experience. There was a guided cave tour, a hot spring foot dipping session or a test drive experience with Mercedes. It would have been a shame to not explore the magnificent Banjaran natural wonder, so I opted for the scenic route. I was in awe as our personal guide brought us through several of the main caves including the thermal Steam Cave (it must have been 40 degrees in there!), Crystal Cave and Meditation Cave.
So, what a way to spend a Saturday! Just one of many MOC Elite Priority Moments experiences to come. And from the feedback after the event, the MOC Elite members and their guests enjoyed their time too.
"I enjoyed the Michelin-starred Lunch and guided cave tour the most. We definitely experienced a new style of dining!"
"Maxis takes good care of its customers. This, together with the trust that I have with them is the reason I've chosen to be withMaxis all these years." – MOHD SOERYATMAN BIN MOHAMAD SURYONO

"The Michelin starred lunch was a highlight and I enjoy these priority moments. Maxis' wide network coverage, international roaming and reliable service are some of the key reasons that have made me remain with Maxis for a long time." – LOUIS TAN HAN CHOOI

"Having outriders accompany us was really unique and interesting. My wife and I were excited over that experience!"
"I really like the exclusivity of the Priority Moments, and being treated with such acknowledgement. I also got attended to very quickly. I think Maxis has one of the best customer service around." – JEREMY JOHNSON THOMAS
So how does one qualify to be an MOC Elite member? Simple. All you need is to have an average spend of RM500 as a postpaid user for at least a year, and have a consistent and timely payment record over a 12-month period.
MOC Elite members are given first priority to indulge in unique experiences like the one I've talked about here. MOC Elite members only need to download the MyMaxis app and download passes to win their spot. With MOC Elite, you also get priority services in terms of personalised services, fast track access, express delivery and more.
Customers who spend an average of RM150 per month are entitled to be regular MOC members. Regular MOC members get member-only discounts and offers and also private access to events like the recent meet-and-greet with Jacky Cheung and BackStreet Boys.
Download the MyMaxis app for Android and iOS to check your membership status.
More photos below:
All photos shot with Samsung Galaxy S6 edge