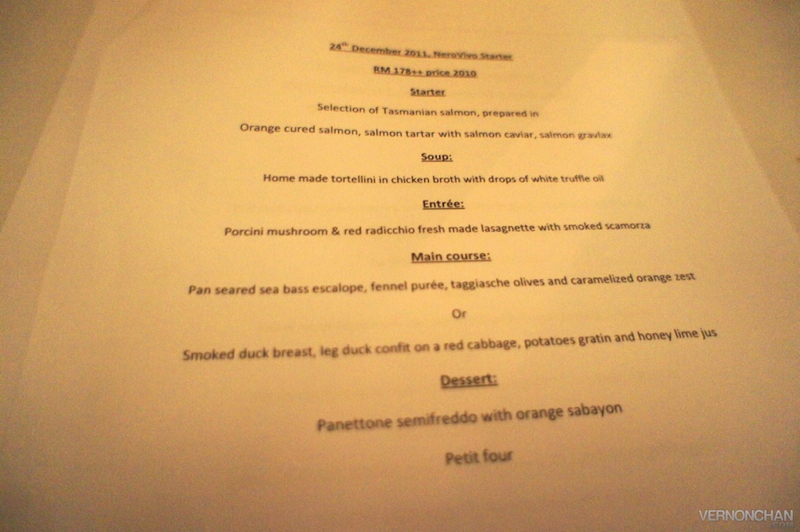 Christmas came early for about 20-odd members of the media and I including popular food bloggers Rebecca Saw and Joe from CUMIandCIKI when Nero Vivo threw a special food tasting session for their Christmas Eve menu recently. I've heard plenty about Nero Vivo and its sibling Neroteca but never actually set foot on their grounds at Jalan Ceylon. The restaurant was bustling when I got there, greeted by the new, bubbly restaurant manager Alessandro Boneschi. I was slightly late to the tasting, having braved crazy rush hour traffic, but things were already full of energy ala Italia, thanks to Boneschi and new Executive Chef Paolo Petris from Italy.
I'm a huge Italian cuisine fan. I do love my pastas, pizzas and coffee. Heck, I even drive an Italian car. So this was a treat. As I plonked my behind (it's quite big, btw) at the long table where I sat with my host and event partner-in-crime, Rebecca, I was already spoiled by glasses of red and white wine. I had missed the session where Executive Chef Petris demonstrated the preparation of tortellini for guests.
The Christmas Eve Menu (24 Dec 2011) is a five-course set at RM178++ per person.

[ad#Google Adsense 336×280]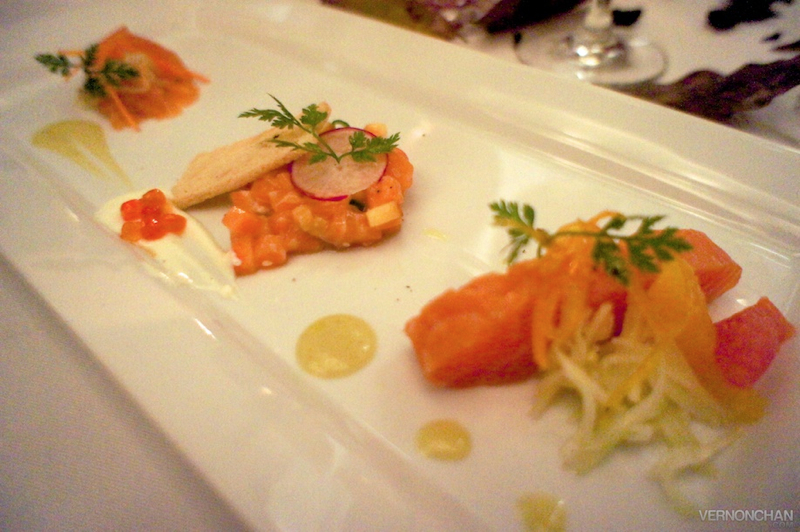 The Salmon Cure
A selection of Tasmanian salmon, prepared in Orange cured salmon, salmon tartar with salmon caviar and salmon gravlax . I do love my salmon, so enjoyed the melt-in-your-mouth goodness. This platter provided a nice introduction to the rest of the menu. Thumbs up.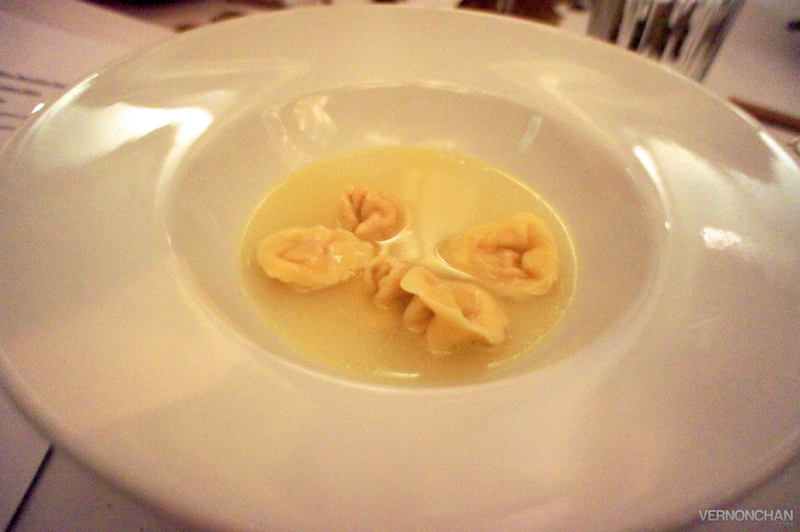 Suppa zuppa!
Next up was homemade tortellini in chicken broth, with a dash of white truffle oil. While some may pass this off as bland, I found it light and rather soothing. The truffle oil added that hint of fragrance and the freshly-made tortellini was al-dente, so perfectly chewy – the way pasta should always be!
Entrée - Porcini mushroom & red radicchio fresh made lasagnette with smoked scamorza

A Smoking Entry
Porcini mushroom and red radicchio, fresh-made lasagnette with smoked scamorza. As an entrée this could be a little heavy but I did like the lasagnette very much. It worked very well with the smoked scamorza. Overall it was flavourful and the scamorza added that tinge of saltiness and creaminess to balance the palate.

Main course - Pan seared sea bass escalope, fennel purée, taggiasche olives and caramelized orange zest

The Main
For main course, there were two options – Pan seared sea bass escalope, fennel purée, taggiasche olives and caramelised orange zest or smoked duck breast, leg duck confit on a red cabbage, potatoes gratin and honey lime jus. Since it was a tasting per se, we were served both. The moderately oily sea bass always works well pan-seared, so this was a natural, safe choice. While I didn't care too much about the sea bass, which was nothing extraordinary, I thought the fennel purée was exceptional. As a dish as a whole, it offered a good balance of flavours, with the olives and orange zest adding a tinge of tanginess and zing to the fish and purée.

Main course - Smoked duck breast, leg duck confit on a red cabbage, potatoes gratin and honey lime jus

The duck on the other hand, was quite something else. Frankly, my experience with duck was always limited to the oriental roasted type, or braised and the occasional liver pate. So this opened up my palate quite a bit. Smoked to perfection, the duck breast was medium rare and succulent, and at times reminded me of a really good steak. The potato gratin was perfect, complementing the two slabs of perfect meat laid on top. That wasn't all with the duck, though. A couple of inches right of the plate was leg duck confit oven-baked in puff pastry, accompanied by red cabbage. Definitely the dish of the night! Life's ducky and oh so good!

Dessert - Panettone semifreddo with orange sabayon

Room for dessert
An Italian Christmas without panettone is like a traditional English roast without yorkshire pudding. So on the menu, there was Panettone semifreddo with orange sabayon. I've always enjoyed Panettone with a dollop of vanilla ice-cream or custard and this was just as good. The creamy, airy sabayon neutralised the sweetness of the panettone and provided for a nice little end to a good meal. Only thing was, it wasn't quite the end. It wouldn't be complete without petit four (torrones), a small collection of cakes and pastries. Went perfectly with a cup of long black.

Executive Chef Paolo Petris bearing gifts for all

Rebecca with her box of Xmas goodies

An Italian Christmas
Nero Vivo was recently remodeled and refreshed, featuring wood-fired grill and pizza oven, a large al fresco dining deck and bold artwork, offering high-quality Italian fare and impeccable service. Nero Vivo is pork-free and is possibly the best known of Nero Group of Restaurants. It was recently nominated for Awards of Excellence in the Malaysian International Gourmet Festival 2011 and also voted number 3 on Trip Advisor.

Source: Nero Vivo

Look no further for a casual, cozy Christmas ala Italiano!

[note]

The Full Menu
Starter
Selection of Tasmanian salmon, prepared in Orange cured salmon, salmon tartar with salmon caviar, salmon gravlax

Soup
Homemade tortellini in chicken broth with drops of white truffle oil

Entrée
Porcini mushroom & red radicchio fresh made lasagnette with smoked scamorza

Main course
Pan seared sea bass escalope, fennel purée, taggiasche olives and caramelised orange zest
OR
Smoked duck breast, leg duck confit on a red cabbage, potatoes gratin and honey lime jus

Dessert
Panettone semifreddo with orange sabayon

Petit four
[/note]

Contact the suave Restaurant Manager Alessandro Boneschi or the very hot MarCom Manager Rachel Lai at Nero Vivo for reservations to avoid disappointment.
Restaurant address
3A Jalan Ceylon, 50200 Kuala Lumpur.
T: 03-20703120
E: [email protected]

Opening hours
Weekdays
12.00pm – 3.00pm
5.45pm – 11.30pm
Sundays
5.45pm to 11.00pm

View the entire gallery:
[nggallery id=96]


Nero Vivo is also offering a Christmas Day Lunch menu

[note]

25th Lunch December 2011

RM 108++ Menu with unlimited main course
RM 118++ Menu with unlimited fresh juices & soft drinks
RM 128++ Menu with Unlimited Carlsberg draft

Starter, Sharing Family style
Mix cold cuts: turkey bacon, smoked chicken breast, smoked duck breast
Fish: salmon gravlax, prawn salad, crab salad
Turkey salad, beef carpaccio

Soup
Home made tortellini in chicken broth with drops of white truffle oil
Or
Porcini mushroom & red radicchio lasagnette with smoked scamorza

Unlimited Main course
Roasted turkey breast, roasted lamb leg, beef tenderloin Wellington
Roasted potatoes, caponata, Brussels sprouts

Dessert
Panettone semifreddo with vanilla sauce,

Petit fours (torrone)[/note]