Tune Talk has introduced an all-new SIM pack – #SureOne Value Prepaid Pack (TTVP) that will replace the current Tune Talk Buddies pack. The new pack comes with 10GB of basic internet data for free to ensure you don't get cut off when you've used up data in your subscribed plan.
The new #SureOne Value Prepaid Pack now offers RM1 Unlimited Passes for chat, social and music streaming, just like unlimited passes offered by other telcos. Unlimited Chat covers apps like WeChat, WhatsApp, Imo and Viber, while Unlimited Social Pass covers Instagram, Twitter and Facebook. On the other hand, Unlimited Music Pass is valid for Astro radio stations, KKBox, Hungama, Raku and Joox. Spotify and Apple Music are glaringly music, two of the most used streaming apps.
Unlimited passes allow you to use these apps without worry of using up data from your subscribed data plan. They're only offered as daily passes.
That aside, Tune Talk also offers daily and weekly plans for data and calls. The Daily Plan costs just MYR1 per day and will give you 300MB of high-speed data, unlimited calls (to Tune Talk numbers) and 10GB of basic internet.
For weekly plans, you get 2GB of high-speed data, unlimited calls (to Tune Talk numbers) and 10GB of basic internet data for MYR10 per week.
For most, you'll probably want to subscribe to a monthly plan, of which Tune Talk has three options to choose from.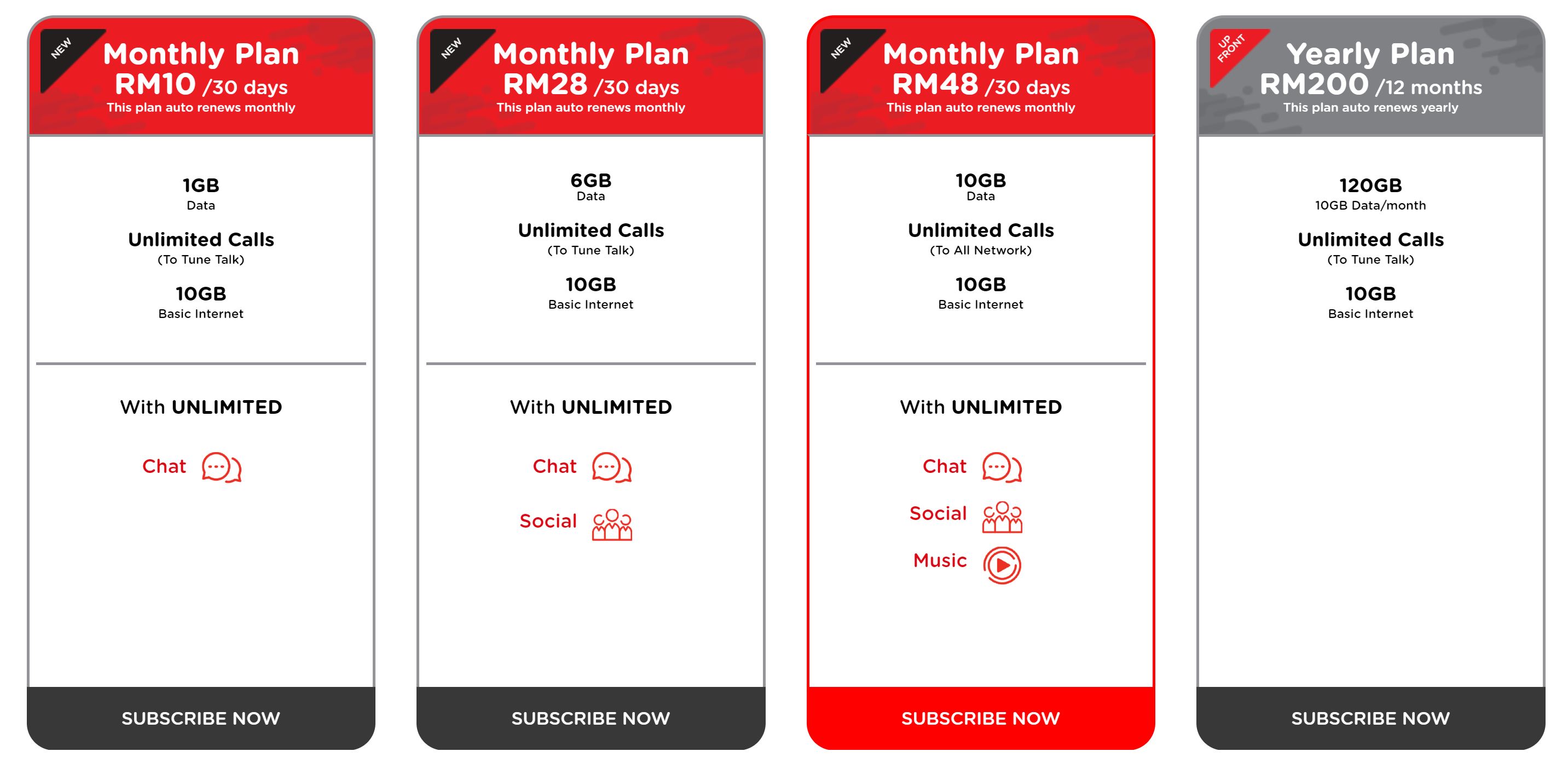 They all come with 10GB of basic internet and unlimited calls (to Tune Talk numbers) and offer various bundled data quota starting from 1GB up to 10GB.
The MRY10 monthly plan gives you 1GB of data, MYR28 gives you 6GB of data, while the MYR48 monthly plan offers 10GB of data.
The respective packages come with different unlimited app options (refer to the diagram below).

The plan that gives the best bang for buck is the yearly plan that requires you to pay a MYR200 fee upfront. This gives you 120GB of data for 12 months, distributed evenly across each month. This translates to just MYR16.67 per month for 10GB of high-speed data.
If you want to make calls or send text messages to other networks, Tune Talk offers competitive rates of 22sen per minute for calls, and 10sen per SMS or MMS.
Here's a caveat…
All this sounds great if you're just venturing into the Tune Talk platform. For existing users like me, currently on the Tune Talk Buddies Prepaid plan, I'll need to switch to the #SureOne plan. All the current perks (data, calls, etc) will be forfeited.
I currently have one-year validity activated (which I subscribed to for just MYR28). For the new #SureOne users, extended validity costs MYR100.00.
Eligible existing Tune Talk subscribers will be notified by SMS and will be shown steps on how to switch.
After 14 January, the older tariff plans (like the Tune Talk Buddies plan) will no longer exist.
There are no charges to switch from the old plan to the new from 14 January to 28 February. However, starting 1 March onwards, a switching fee of MYR5.00 will be levied.
The #SureOne Value Prepaid pack is a fantastic value proposition and the pros certainly outweigh the cons. The new pack effectively removes pay-per-use charges. For those who want to cling on to existing one-year validity, you may want to stay away.
At this point, I'm still on the fence of whether to switch or not.
For more info, visit Tune Talk #SureOne.