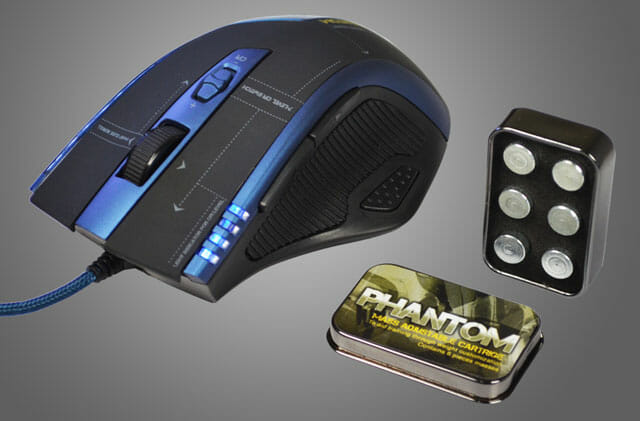 The brand Armaggeddon is synonymous with gaming gear, offering a selection of mice, keyboards, headsets, gaming rigs, PC chassis and components, as well as other accessories and audio gear. Courtesy of LeapFrog Distribution, I test drive one of its mid- to high-end gaming mice – the Armaggeddon Phantom. To set the record straight, this isn't a new product (released in early 2013) and there are already newer ones like the AlienCraft-11 G13 or Alien Craft IV G17.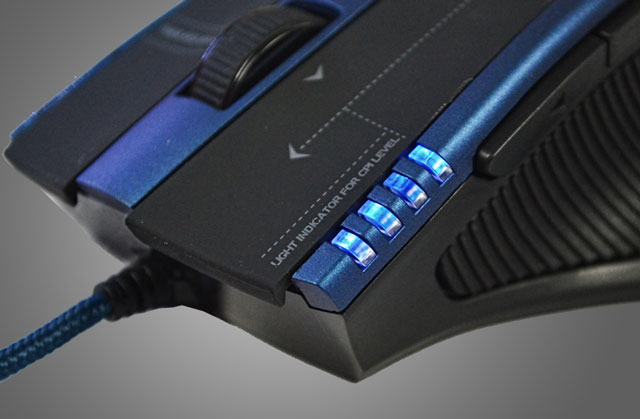 The Armaggeddon Phantom was tested using my mid-range AMD A10 rig. I'm not a super hardcore gamer, but can be considered a middleweight enthusiast whatever that means. *rolls eyes. Games I do play – FPS (CS:Go, BF3, Payday 2), military MMO (War Thunder, World of Tanks), footie sims (FIFA14), strategy (Command & Conquer 4, I know, old) and racing (Grid 2). Steam, Origin and The Humble Bundle are my friends.
Design and build
The first thing you'd notice about the Phantom is its styling, which some may consider over-the-top with its graphics and such. Measuring 126 x 88 x 41.8mm, it's a large mouse (gaming mice tend to be, in general), in fact a Size 6 which is rated 'very large'. Certainly feels comfortable in my big hand, also attributed to its ergonomic design. I like the rubberised, non-slip finish which keeps your palm steady even when you're in an intense gun fight. There are even grooved rubber grips on the side for added comfort and traction.
There's a total of six programmable buttons – a lower button near the thumb, two additional macro-able buttons above the thumb, two main buttons up top including a 4-way click scroll wheel, and an additional button within reach of the middle finger (not for rude gesturing).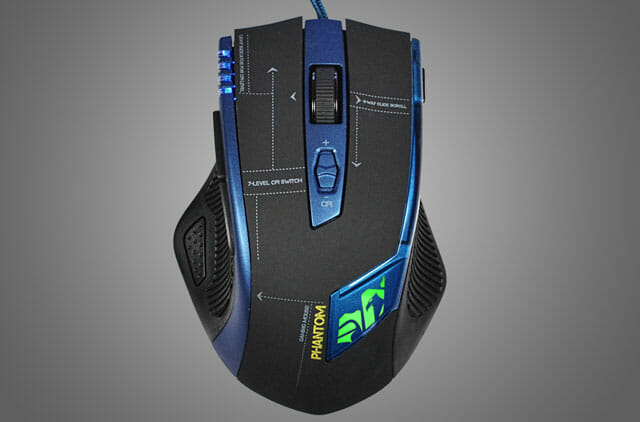 On the top left is a light indicator that shows your current CPI level, set by way of the 7-level CPI switch below the scroll wheel. Near the palm rest is a glowing light indicator that shows your current gaming profile. This is actually quite cool because when you have it plugged in to your rig, it pulsates as if 'breathing'. It's alive…literally.
At the bottom you'll find durable Teflon feet and a weight cartridge compartment cover. Six 5g weights are included in the box, so you can customise your weight preference. Competitive gamers add weights to train for competitions. I prefer heavy mice so I put in full weights into the Phantom.
Key features at a glance
Macro-able Laser Class Gaming Mouse with 256KB on-board memory
7-level CPI adjustment on-the-fly (Default 600/1200/2000/3000/4800/6400/8200CPI)
Adjustable light effects and up to 24 colour options indicate profile selected
6 Buttons + 4-Way Click scroll (Save Up to 11 Macros (6+5) in each profile)
Assign button of choice for switching between 5 different profiles
CPI toggle switch for both increasing and decreasing CPI on-the-fly
Adjustable polling rate: 250Hz-4ms/500Hz-2ms/1000Hz-1ms
High performance tracking speed: up to 150 inches per second
6-level adjustable weight management system
AVAGO Laser sensor: AVAGO 9800
Ultra durable 1.8m nylon cord
High quality Teflon foot pad
Frame rate: 12,000fps
Acceleration: 30G
[button link="http://www.vernonchan.com/2014/02/review-armaggeddon-phantom-gaming-mouse/2/"]Read next page for more[/button]