Aside from partnering Asetek for its cutting-edge liquid cooling tech, Lenovo has announced an exclusive OEM partnership with Corsair at gamescom 2017. Lenovo is arming its latest top-of-the-line Lenovo Legion Y920 Tower with optional Corsair Vengeance LPX overclockable DDR4 memory.
For the hardcore gamer, every ounce of performance matters. Faster system response and higher memory bandwidth is a given. That's where Corsair's overclockable memory come in.
The Corsair LPX memory features heatspreader that's made of pure aluminium for faster heat dissipation. It also features a performance PCB that manages heat and provides headroom for overclocking.
It supports the new XMP 2.0 standard, which is also supported on Intel X99 and 100 Series motherboards. When turned on, it automatically adjusts to the fastest safe speed for the Corsair Vengeance LPX kit.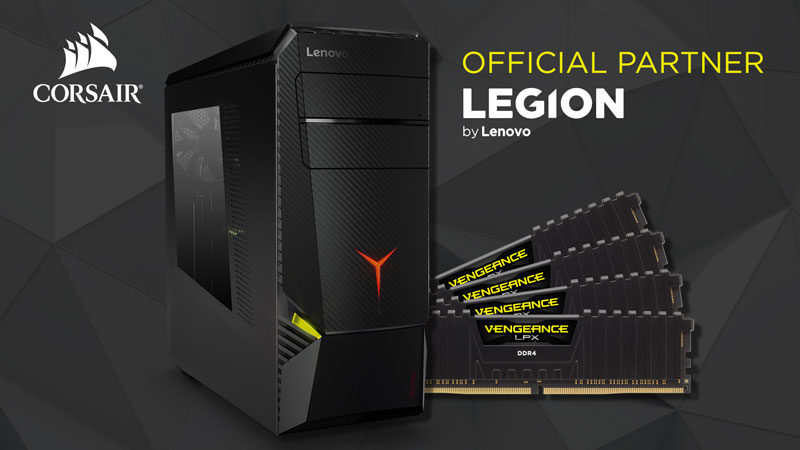 As mentioned previously, the gaming tower comes with up to a 7th Generation Intel Core i7-7700K processor; up to 32GB overclockable DDR4 Corsair RAM; 512GB x 2PCIe SSD RAID 0 or 512GB PCIe SSD + 4TB SATA HDD storage options and up to 625W PSU.
In the graphics department, you can select the NVIDIA GeForce GTX 1080 8GB; GTX 1070 8GB; GTX 1060 6GB; or the AMD Radeon RX 570 4GB.
The Lenovo Legion Y920 runs Windows 10 Pro or Home.
The tower is the first product collaboration with Corsair, but Lenovo said this is just the beginning.
Pricing and availability
In EMEA, the new Lenovo Legion Y920 Tower with Corsair Vengeance LPX overclockable DDR4 memory will be available starting at EUR2,299/MYR11,589 (VAT included) in September 2017.