Earlier today in Barcelona, Xiaomi unveiled its latest flagship – the Mi 5. The beastly new smartphone pushes the envelope in terms of performance, but of course, that isn't all up its talented sleeve. Read on to find out 5 things that make this smartphone so good.

#1 Performance
Xiaomi chose the latest Qualcomm Snapdragon 820 to power the Mi 5. And it looks like a brilliant choice. The 820 runs circles around the Snapdragon 810 that powers last year's flagship devices. In fact, it's 100% faster all round in compute power, as well as 60% faster in graphics. And that's not all. Based on a 14nm manufacturing process, the SoC is smaller, more power efficient, and runs cooler overall.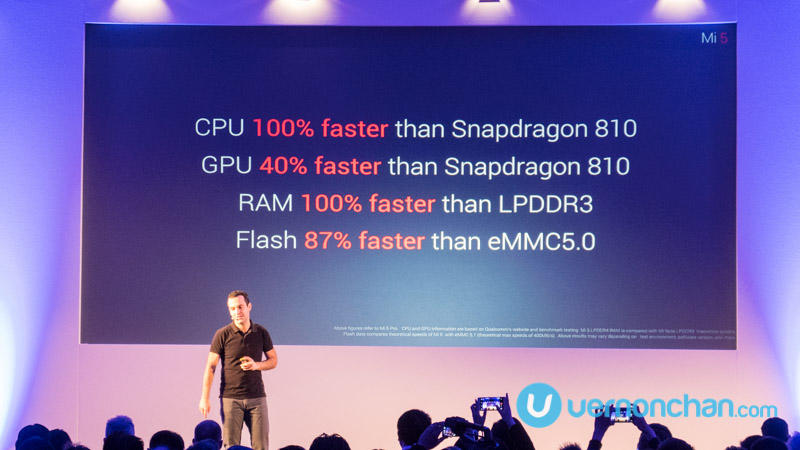 The Mi 5 also packs up to 4GB of LPDDR4 RAM, which is 100% faster than LPDDR3. Xiaomi also adopted newer flash storage technology – UFS 2.0, which is 87% faster than eMMC 5.0-based storage. The device features up to a whopping 128GB of built-in storage, doing away with external expansion.
As Hugo Barra declared: It's insanely fast.
A 142,084 AnTuTu benchmark score should be pretty convincing, I reckon.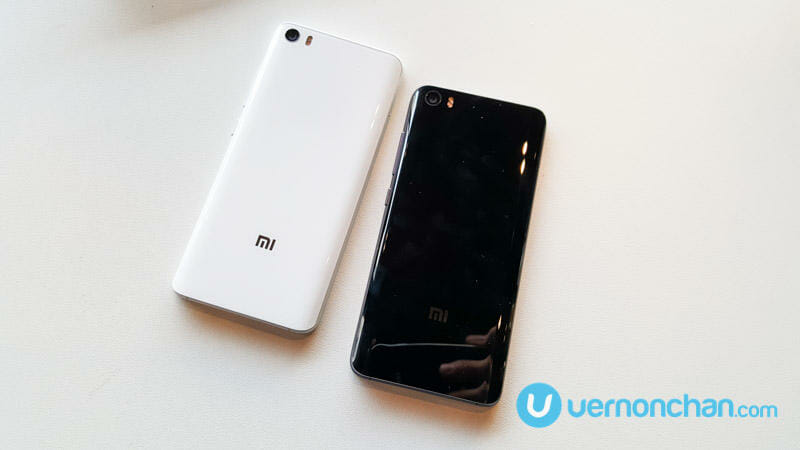 #2 Inspired design
Xiaomi took the best from the stunning Mi Note and adopted it in the Mi 5. It has a solid metal frame, and a 3D back. This time however, instead of just a 3D glass back, it went out-of-the-box and used a nano-ceramic zirconia material that's highly durable. It's also beautiful to see and touch.
The device measures just 7.25mm and weighs from 129g (for the glass back option).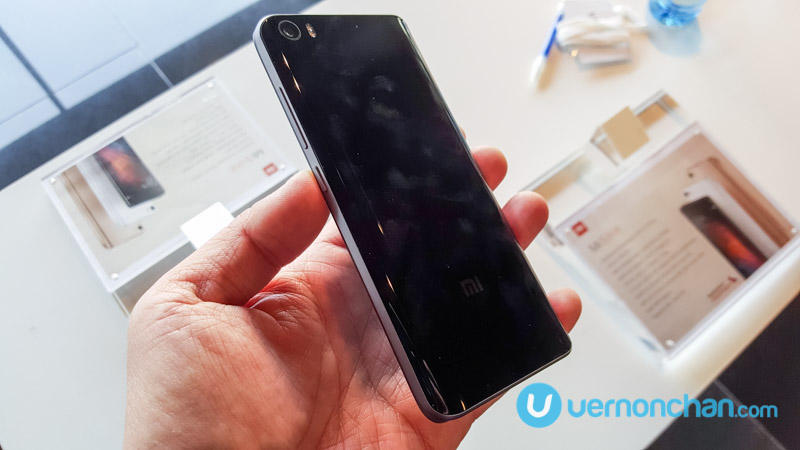 What you'll notice is that it doesn't have a camera bump, unlike more expensive flagship devices out there. According to Xiaomi, this took time and effort (two years in fact) to perfect, and this is proudly evident in the MI 5.
On the front, the 5.15-inch display makes up 85% of the body, giving it an almost bezel-less look.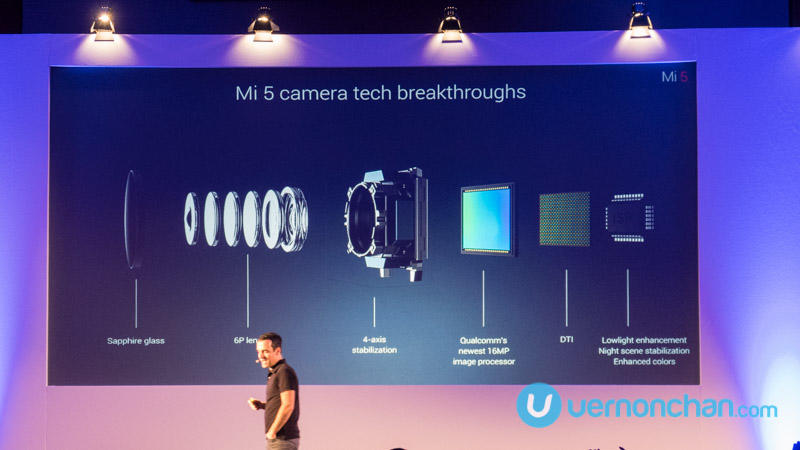 #3 Outstanding camera
Sony's latest IMX298 16MP sensor is used on the Mi 5, featuring PDAF (phase detection autofocus) as well as DTI (pixel-to-pixel isolation). Paired with a high performance image processor called Qualcomm Spectra, images and video (up to 4K) are great, even in low light.
The six-element lens is protected by sapphire glass, and what's groundbreaking is the on-lens 4-axis OIS. The 4-axis OIS significantly reduces shake and ensures steady, sharp photos and videos.
Image quality is outstanding, and sample footage showing the OIS in action is impressive.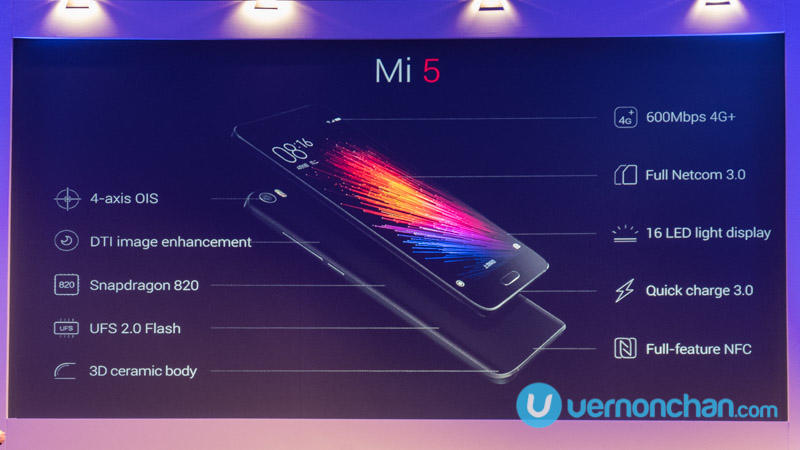 #4 Superfast connectivity
The Mi 5 features the X12 LTE radio that's Cat.12 LTE rated, giving you superfast data connectivity of up to 600Mbps on LTE-A/LTE+. It also supports VoLTE.
Interestingly, it has a full-feature NFC and supports most NFC applications including payment and more.
There's also an infrared blaster on the top.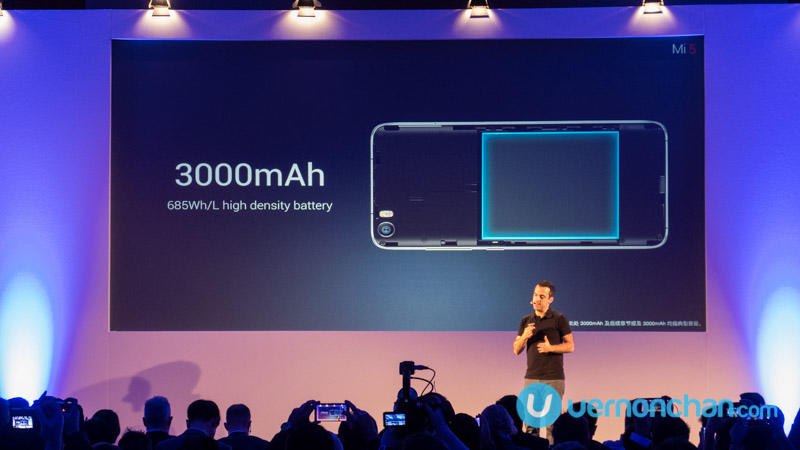 #5 Big battery + Quick Charge 3.0
Despite its slim profile and size, the Mi 5 includes a sizeable power unit. In comes a high-density 3,000mAh lithium battery that should give you enough juice for an entire day's work, or more.
Thanks to Qualcomm's Quick Charge 3.0 technology, you'll get charged up from 0-80% in about an hour. The latest version charges 20% faster than before. It uses intelligent negotiation for optimum voltage, in 200mV increments for better, safer charging.
All three variants of the Mi 5 go on sale in China starting 1 March 2016.
Check out the Mi 5 quick hands-on video: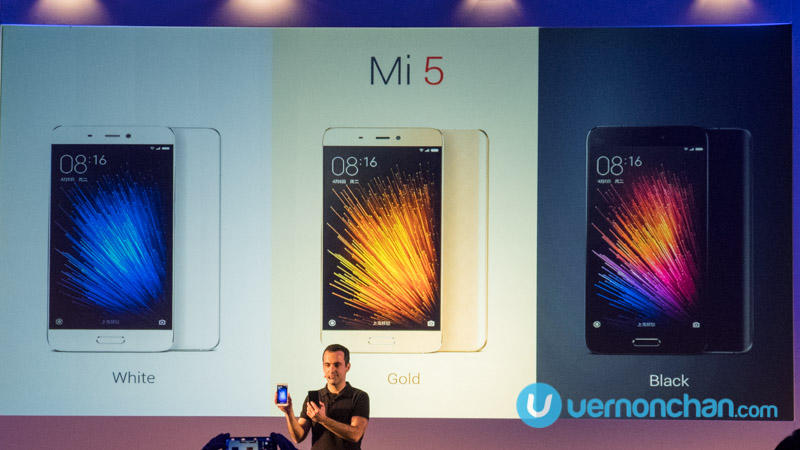 Photos and videos shot on a Canon PowerShot G3X.