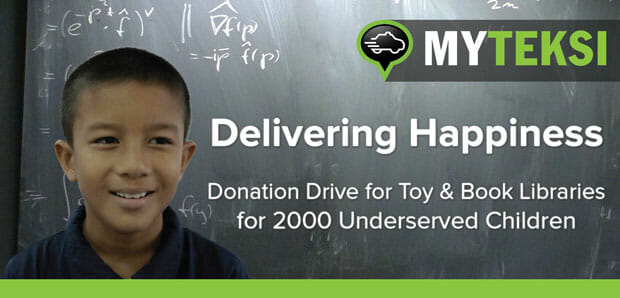 "A small act of kindness goes a long way," as they say. And what better way to kick off the new year by bringing a smile to a child. MyTeksi, Malaysia's leading mobile taxi application, together with Science of Life Studies 24/7 (SOLS 24/7) announced a collaboration on a donation drive to collect used toys and English children's books for 2,000 children in underserved communities.

MyTeksi is a social startup that has revolutionised the taxi industry. With a mission for social good – making taxi rides easier and safer, MyTeksi has connected thousands of taxi drivers to customers in the Klang Valley and Selangor, Kuala Lumpur, Putrajaya, Cyberjaya, Negeri Sembilan and Johor. Customers can conveniently and safely book taxis on their smart devices – iOS: http://bit.ly/myteksi-ios; Android: http://bit.ly/myteksi-android and Windows: http://bit.ly/myteksi-windows. In Thailand, Singapore and The Philippines, MyTeksi is known as GrabTaxi.
From 28 December 2013 to 19 January 2014 (only weekends), donors will only need to prepare 5 toys, 5 English children books or a mixture of both for children between ages 8 to 14.
The process to donate is simple:
Use the MyTeksi app to make a booking from your location to MyTeksi headquarters (MYTEKSI HQ).
When the taxi arrives at pick-up point, the items (toys/books) should be placed in the taxi.
The taxi will proceed to MyTeksi HQ.
The taxi fare will be borne by MyTeksi, and the driver will be paid upon arrival at MyTeksi HQ.
The gifts will be handed to SOLS 24/7 to be distributed to toy libraries.
Note that booking and collection is done during weekends, from 9.00am to 5.00pm only.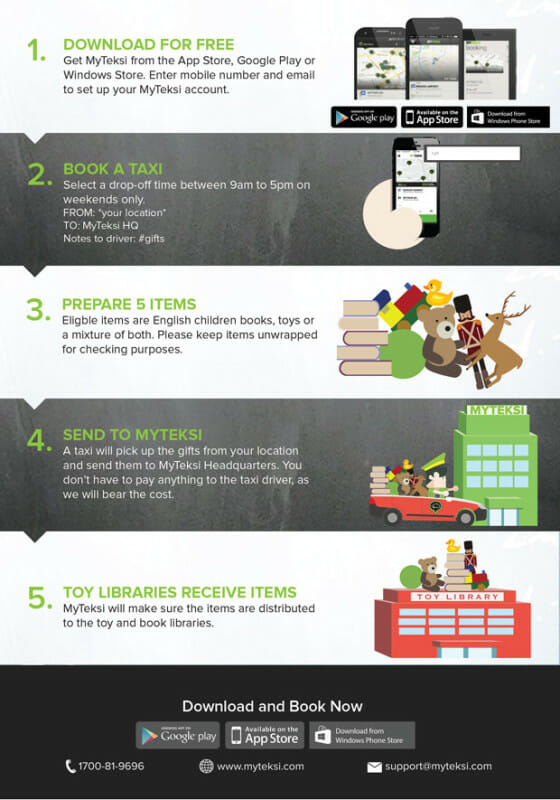 "Our aim is to collect enough toys and books from the general public to fill 20 toy libraries in rural areas like Minusuh (Sabah), Kulim (Kedah), and Sungai Suloh (Johor Bahru). By leveraging on our large network of taxis, donating is now really convenient as our taxis will help collect the donations from the convenience of the donor's home over four weekends," says MyTeksi's Regional Marketing Head, Cheryl Goh.
"We are extremely glad and grateful to be able to be collaborating with MyTeksi for "Delivering Happiness". A lot of children in underserved communities would benefit greatly from the toys and books donated from donors; we really believe that through this effort, the livelihood of these children will be that bit brighter", says Teacher Raj Ridvan Singh, SOLS 24/7 Co-founder and Director.
SOLS 24/7 is a non-political, non-religious, non-governmental organisation, providing education and social services without prejudice to underserved communities.  SOLS 24/7 has over 130 centres, training over 138,000 people since it was founded in 2000. www.sols247.org.
Being a long-time fan and user of MyTeksi, I applaud the MyTeksi-SOLS 24/7 initiative. MyTeksi, in my opinion, has truly made booking a taxi so much easier, and safer for everyone. Now using its influence and network, it is able to reach out to more people (even beyond its customer base) to bring about change.
Let's kick start 2014 with a positive note, and bringing positive change to the community.

For more info on the campaign, visit http://campaigns.myteksi.com/delivering-happiness/